International Web Conferencing
Call 1.888.823.6568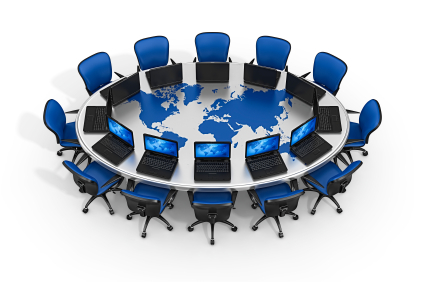 International Audio and Web Conferencing Solutions
Premium International Audio and Web Conferencing Support
In today's business environment, companies need to keep the lines of communication across geographic barriers and time zone differences. We offer reliable and consistent service on a global scale. Wherever your customers, employees or business associates are located around the world, you can easily connect with them and you're guaranteed to be able to offer a seamless user experience.
Global coverage - With more operation centers and sales offices globally than any other conferencing specialist, Our network partner, InterCall has the scope to facilitate worldwide communications, coupled with the local presence, to understand your specific business environment. With more than 100,000 ports available worldwide,we can meet all your conferencing demands.
Global expertise - InterCall serves more than 400,000 conference leaders around the world-providing true experts in the global conferencing marketplace.
Global services-a complete range of solutions that can be used seamlessly worldwide, allowing for a congruent experience for employees across all regions of a company. Global offerings give you access to services that are identical in feature and functionality, even though they are managed by different operations centers around the world.
Characteristics of a global services solution:
Available in every region of the globe
Identical features across the world
Localized training, billing and customer service (managed in each region)
The following products are part of our global services:
Reservationless-Plus®, Operator Assisted, Automated Conferencing
Event services/online event registration
Online account management
Web conferencing: InterCall Unified Meeting, Lync Online, Web Ex™ services, including MeetingCenter™, EventCenter™, TrainingCenter, SalesCenter and SupportCenter, and Adobe Connect Pro
Video Conferencing
Global dependability - Global networks operate at a predictable uptime of no less than 99.9%, ensuring that conferencing services will be available whenever your business needs them. Our service levels are consistently rated the best in the business. InterCall, as a division of West Corporation, is part of a large reputable corporation with outstanding financial performance and above-average growth. This means that your services will be here to keep your business communicating, no matter what.
Global support - Our global support team is there to provide you with quality, professional services-whenever and wherever you need them – to bill services in your local currency and, who can speak the local languages and understand the culture.
Global reporting -You get access to your company's monthly conferencing usage by product and region. Our reports are completely customizable to meet your needs for language or currency.
How to Connect Globally
When your meetings span across different regions, we have multiple options for you to connect with employees, customers and partners, allowing you to choose the most cost effective and convenient method.
International Toll-Free Services (ITFS): ITFS provides international participants access to a conference call without incurring any long distance fees of their own. ITFS numbers are available for dialing into any of our regional operations centers from over 75 countries; additional countries are available on request. ITFS is available with any Operator Assisted or Reservationless-Plus conference.
*More ITFS countries are being added every day. Contact us for a current listing.
International Dial-out: An operator from one of our regional call centers dials out to your international participants and connects them to the conference. When making a reservation, provide the name and telephone number of each international participant. You designate the time and we make the call. Dial-out is offered on any Operator Assisted or Reservationless-Plus audio conference.
International Toll Dial-in: Participants in different countries can connect directly to your conference by dialing a number that is local to the conference center where the call is hosted. Participants will each pay their own applicable international long distance fees to connect to the meeting. Phone numbers are permanent and will not vary from one meeting to the next. International Toll Dial-in is available on all audio services.
Additional numbers available upon request.
International Local Access: Participants from over 50 international cities can dial into their conference using a local number, even if the conference bridge they are connecting to is in another country; additional countries are available on request. Participants will each pay their own applicable local connection fees on their regular phone bills, but this will likely be little or no charge based on their local service.
Global Operation Centers:
Global Operation Centers
U.S. and Latin America
Canada
Europe, Middle East and Africa
Asia Pacific
- West Point, GA
- Newnan, GA
- Leneka, KS
- Wayne, NJ
- Highlands
- Ranch, CO
- Manassas, VA
- Edmonton, AB
- Croydon, UK
- Gloucester, UK
- Hong Kong
- Sydney
- Singapore
Languages Support
U.S. and Latin America
Canada
Europe, Middle East and Africa
Asia Pacific
- English
- Spanish
- Portuguese
- English
- Canadian
- French
- English
- French
- German
- Spanish
- Italian
- Polish
- Swedish
- Russian
- Arabic
- Afrikaans
- Dutch
- English
- Mandarin
- Cantonese
- Japanese
- Malay
- Hokkien
- Vietnamese
- Hindi
Billing Currencies
U.S. and Latin America
Canada
Europe, Middle East and Africa
Asia Pacific
- U.S. Dollar
-CanadianDollar
- U.S. Dollar
- British Pounds
- Dollar (U.S.,Australia or HK)
- Swiss Francs
- Czech Koruny
- Kroner (Danish or Swedish)
- Japanese Yen
- Polish Zlotych
- Hungarian Forint
- Kenyan Shillings
- Dirham (Morocco or UAE)
- South African Rand
Pull Together your Global Meeting
Schedule a Demo

Privacy Policy / Security We use Adobe Forms Central Secure Sockets Layer (SSL) technology for data encryption. Your personal information is secure and confidential
Global Network Access
Your participants have multiple ways to access your global conference. Multiple Access options include: