Managed Event Conferencing
Call 1.888.823.6568
Webinar Conference Events
DIRECT EVENT CONFERENCING offers more teleconferencing features and flexibility so you can take advantage of the convenience of automated conferencing for your webinar, large-scale event presentations, or any high profile call, while gaining the benefits of a full service event call.
Automated teleconferencing with the benefits of full service event call features
You rely on your teleconferencing to meet with co-workers, customers and partners for everyday meetings and large- scale events. On demand conference calls provide an easy way to get teams together, disseminate information and keep the lines of communication open.  But as the size of your calls increases, keeping everything running smoothly becomes more of a challenge-participants to invite, attendee information to manage and scores of people to connect to the call. With Direct Event, you get more features and flexibility so you can take advantage of the convenience of automated conferencing while gaining the benefits of a full service event call.
Direct Event combines professionalism and personalization with automation. Your participants quickly and easily join the call with passcode expedited entry and an operator is available during your call to offer any assistance. Plus you can select from our full range of  Surround-the-Call Features  to perfectly tailor each conference to your needs.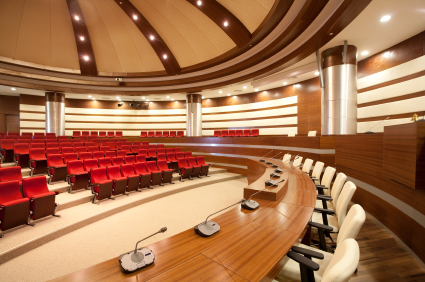 LARGE-SCALE EVENTS WITH FLEXIBILITY
Direct Event lets you conveniently host an audio conference without giving up extra features that    help you make the most of your call.  With Direct Event, you can:  Host a company-wide quarterly review and get everyone into the call and up to speed with no delays.
Use the call registration feature to automatically collect information about your attendees as   they enter the conference Ensure that all speakers and attendees join to the call quickly and efficiently by streamlining entry with permanent leader and participant dial-in numbers.
FEATURE HIGHLIGHTS
Passcode Expedited Call Entry Participants enter a passcode and are placed into the call automatically without the assistance of an operator, streamlining the process and reducing hold times at the beginning of your call.
Separate Dial-In Numbers Call leaders and participants dial into separate numbers ensuring that everyone is where they need to be in the most efficient way.
Optional Call Registration Direct Event Registration gives you the opportunity to collect information about your audience prior to the call. PIN code identifiers given to each participant upon registration enable you to determine exactly who was on your call without having to collect information as participants dial in.
SURROUND-THE-CALL FEATURES
Customize Your Call You get a full complement of Surround-the-Call features, from Participant Report to Encore Digital Recording, so you can select the combination that best suits each call's purpose.
Easy Account Set Up

Privacy Policy / SecurityWe use Adobe Forms Central Secure Sockets Layer (SSL) technology for data encryption. Your personal information is secure and confidential
Easy Account Set up
Billed only when used
No Set Up Fees or Monthly Fees
Easy to use with full 24/7 Support
Manage your Conferences via Outlook™ or Lotus Notes™
Your meeting attendees retain significantly more of what they experience in an oral and visual teleconference meeting.
Integration with:
Adobe Connect Pro™
Webex™
Intercall Unified Meeting™
Microsoft LYNC Online™
No monthly fees.